Fish Reports
From Royal Star Long-Range Sportfishing
Fish Report for 5-2-2019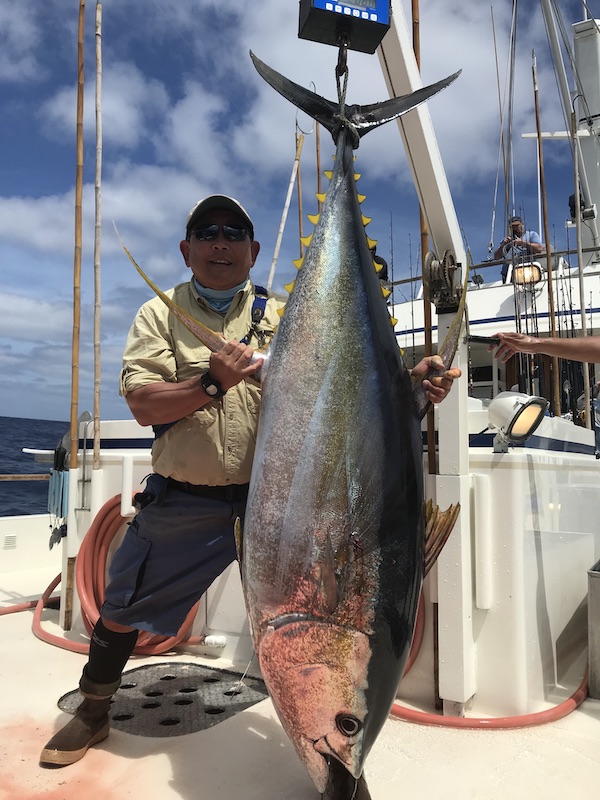 Nice scratch
5-2-2019
Tim Ekstrom

Good scratching throughout the day that included a few shots at trophies amongst the "stock" grade 80 - 120 pounders. By any standard this was the most encouraging sign we've seen in awhile down here with fish crashing around, kites going off, and flyline baits producing for the better part of the late morning/early afternoon. Piecing together a respectable score we now have a plan in place to keep this trend going. The only question of course is whether the fish around here are on the same page. Time will tell.
Photo today again features Warren Sakamoto with a hearty 208 that fell victim to the jumbo bait under the kite.
On an admin note don't forget about those bluefin and yellowtail offshore up above and the host of "value priced" weekend one and one half and three day voyages coming up at the end of the month and in early June. The fares are "all inclusive" with no surprise fees or surcharges to pay when anglers show up for their voyage. Call Captain Brian Sims in the office if you have any questions or book on line. There is still plenty of availability on the Memorial Day weekend Three Day voyage and voyages the weekend's following.