Fish Reports
From Royal Star Long-Range Sportfishing
Fish Report for 6-8-2019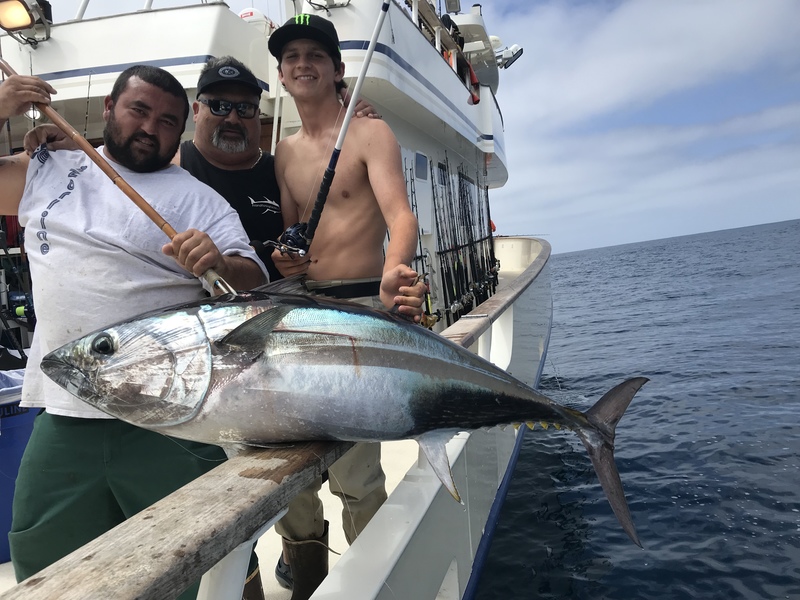 Incredible showing
6-8-2019
Tim Ekstrom

We made a nice day of it on the 25 - 45 pound bluefin capturing about one thousandth of one percent of what we and our colleagues saw. I'm not kidding. Suffice it to say that what we saw today suggests offshore fishing for bluefin and their cousins is poised for legend status. Wow. 
While the vast majority of fish that we encountered were maddeningly finicky rest assured they won't be all the time. As conditions improve they'll certainly drop their guard. 
Grease calm conditions made for a fine day of it regardless. But of course the fishing was the highlight occupying nigh the entire day with lines in the water or something to run on. No plans to relocate based what we have to work with. We'll see what tomorrow brings.
Today's image features long time Royal Star friend and angler, and Co-Owner of the famed Island Tackle, Kevin Aguirre. Sharing the limelight are Captain Blake Wasano and my 14 year old son Duke who co-battled this 74 pound beauty.