Fish Reports
From Royal Star Long-Range Sportfishing
Fish Report for 9-1-2019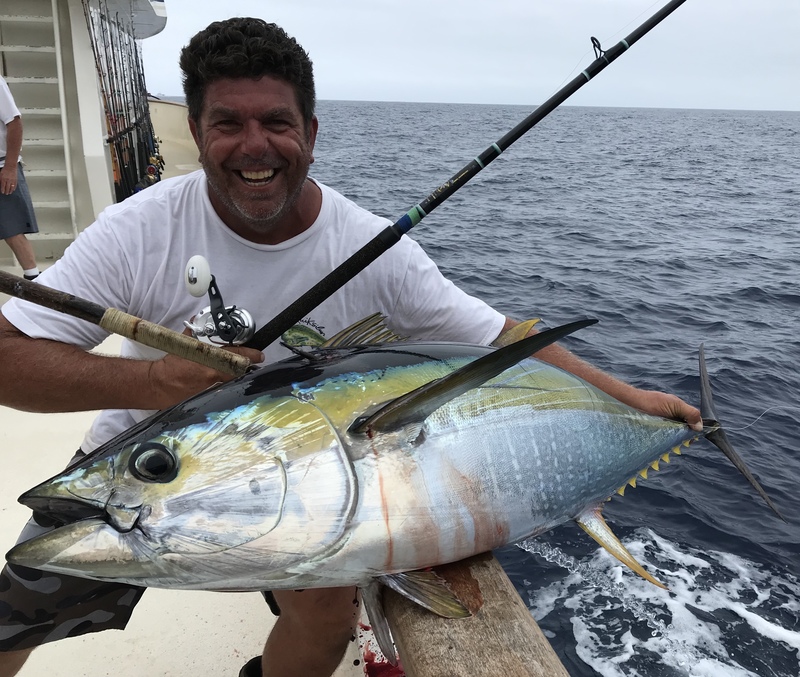 Tremendous sign
9-1-2019
Tim Ekstrom

Tremendous sign of 50 - 100 pound yellowfin tuna this afternoon. They were a little coy when it came to biting but gave us enough chances to accumulate a respectable start. Of course the local denizens asserted themselves right from the gates. Expecting the obvious we immediately kicked into high gear denying them the vast majority of savory delights they sought. As far as we're concerned those freeloaders can pimp handouts somewhere else. Lazy slobs.
Kidding aside we made a nice afternoon/evening of it thoroughly enjoying the majesty of this island and near perfect conditions. This ocean is soon forecast to go grease calm so the "near" perfect part of the condition report is projected to change for the better. The most important component for success is certainly here en fuerza. Time will tell if they get with the program and bite.
Photo today features happy Royal Star veteran Bill Liscio with his first 70 pound class yellowfin of the voyage.