Fish Reports
From Royal Star Long-Range Sportfishing
Fish Report for 10-1-2019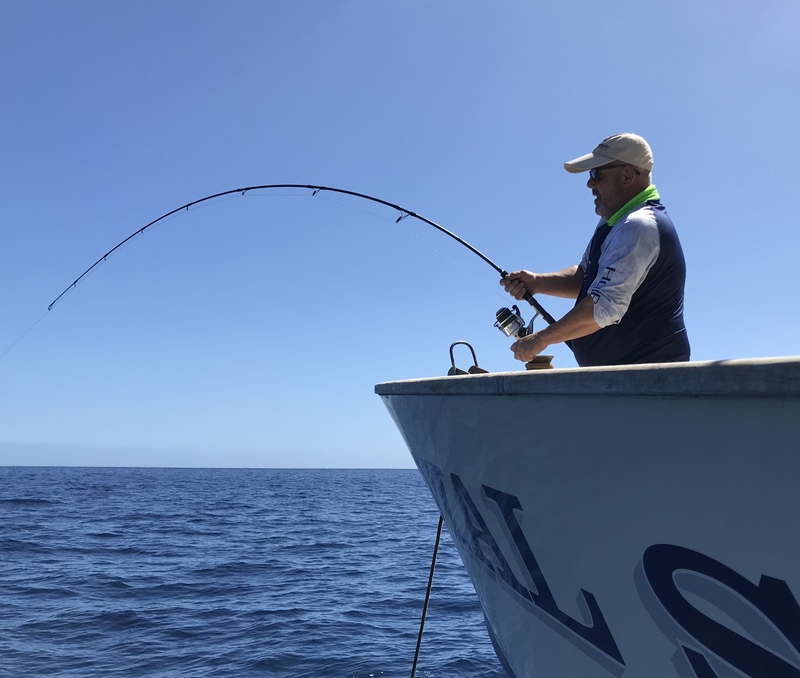 Results
10-1-2019
Tim Ekstrom

Much better action spread throughout the day as we enjoyed a full twenty four hours stationary in the beloved island lee. Calm conditions while the wind and seas groused outside were a huge bonus. Fishing conditions were a bit challenging as the wind and light to zero current had us whipping around swinging side to side. But no one said it was going to be easy. The old saying "it's always something" certainly applies.
To be consistently successful at the rail on any trip out here anglers must be prepared to work for it. Yes - there are those runs when catching is simply a matter of dropping a baited hook in the water. More often however it takes a combination of effort, savvy, and adaptability to stay ahead of the curve, or even on the curve in a lot of cases. Of course that's what the crew is for. It's never a pure guessing game for Royal Star anglers experienced or otherwise. But no matter how, why, or when the boys can't do it all for our clients. There is a good deal of self sufficiency required. That is among the many attractions of this fishery from my perspective. Long range anglers are generally the type of individuals that take pride in the application of their skills learned and honed on the decks of our style of vessels.
I always tell anglers in our fishing seminars that among our goals is to send them off Royal Star as better anglers than they were at the beginning of their voyage. To us nothing is more satisfying than to watch that transformation occur. When it "clicks" and a novice level angler starts hooking fish on their own outside of the luck factor it's a beautiful thing to see; and a win for all.
Speaking of wins how about this shot and achievement for Royal Star angler Pete Jones today? Busting out the trusty spinner Pete got in the saddle several times engaging in epic battles with spirited yellowfin in the right size class for this gear. It was fun to watch, and rib him a little, as it all went down. The results speak for themselves. Job well done!