Fish Reports
From Royal Star Long-Range Sportfishing
Fish Report for 10-3-2019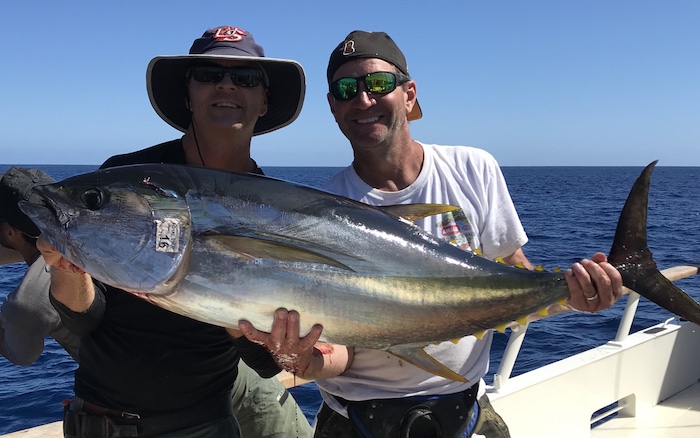 Bigger Better
10-3-2019
Tim Ekstrom

Picturesque and made to order completing our fishing time in paradise with a moderated pace but much larger fish. In the eleventh hour the jackpot holders, whom were feeling confident already counting their winnings, were all erased. Bumping first place up over 100 pounds, and second and third close to it, the day, and time at the island, concluded on the right, high note.
From a fishing perspective it is worth noting that such dramatic changes day to day in the size average of fish is a fantastic indication of huge volume in the area. Tuna from 25 - 120 pounds, and everything in between, are abundant showing zero sign of slowing down. In fact I'd confidently venture that there are more fish around the island now that a few weeks prior; more and more keep filtering in. This of course bodes well for upcoming voyages all the way through December. If last season is any indicator it will continue to improve. Throw in the fact that there has been a huge reduction in the amount of grief doled out by the local Great Whites and the picture is that much brighter.
On that note we have just shy of a handful of spots available on the upcoming seven day voyage departing Saturday, October 12th returning Saturday, October 19th. This is the only Royal Star voyage until December that offers availability. Give Tracy a call in the office if you can make it or book on line.
Tomorrow will be passed in leisure mode as we push through cold green water to the north looking along the way. Not checked out but aware of the unfavorable conditions we'll keep our eyes open while playing through looking for a surprise. Photo today features a long time friend and Royal Star angler Rolf Kuchlenz and yours truly with Rolf's 65 pound class yellowfin