Fish Reports
From Royal Star Long-Range Sportfishing
Fish Report for 11-21-2019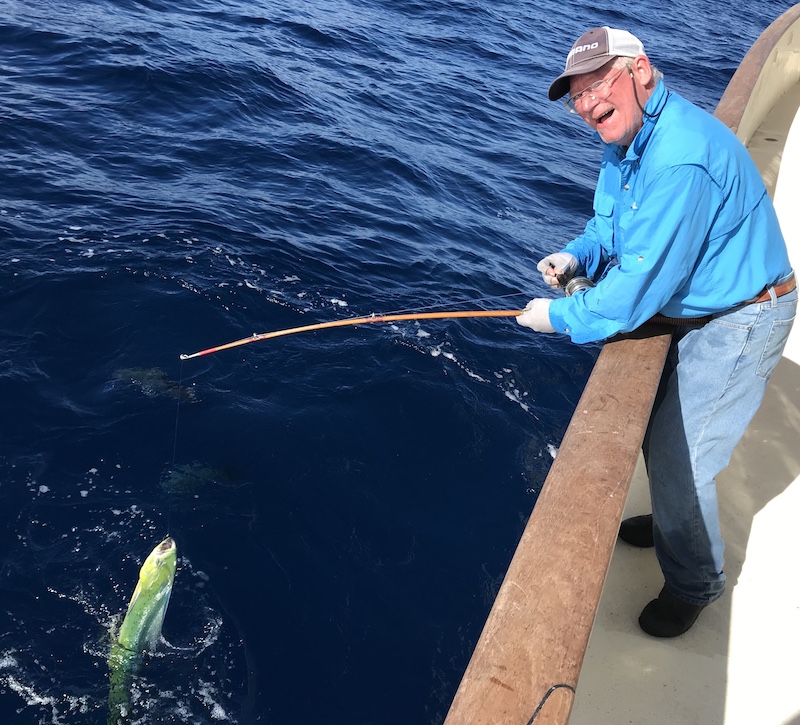 Saved
11-21-2019
Tim Ekstrom

The day was saved by a lucky afternoon kelp that drifted into the shallows. Were it not for that significant bit of fishing fortune it would've been gruesome to say the least. Wherever those wahoo went was beyond our reach and/or intellect. A full throated effort in multiple zones produced a measly one. What a grind. But again the day was made when an errant kelp floated in that was absolutely loaded with good grade dorado. Roughly from 12 - 20 pounds with a few bigger standouts the action was wild and woolly for about an hour as everyone got their catching fix courtesy of the suicidal bastards. After a full morning of blank and the writing clear on the wall we were in no mood to waste the opportunity.
That box checked and that destination exhausted evening saw us on the move again in search of the elusive wahoo. Not that our focus is singular. We still have a few varieties to angle for in this region. But wahoo are undoubtedly the sought after grand prize. From the sound of it right now our goal is a tall order.
We are in the business of making it happen. Either it will or we'll go down trying. In excellent weather the stage is set for at least one more attempt offshore and a round on the ridge somewhere inside. Beyond that are plenty more options. Photo today features Royal Star veteran Winchester Norton. Quite a character and fantastic shipmate in every respect Winchester took the opportunity to test his vintage gear toward the end of today's dorado extravaganza. To say the overall image was hilarious is an understatement. Check out the rod alone. Priceless.