Fish Reports
From Royal Star Long-Range Sportfishing
Fish Report for 11-25-2019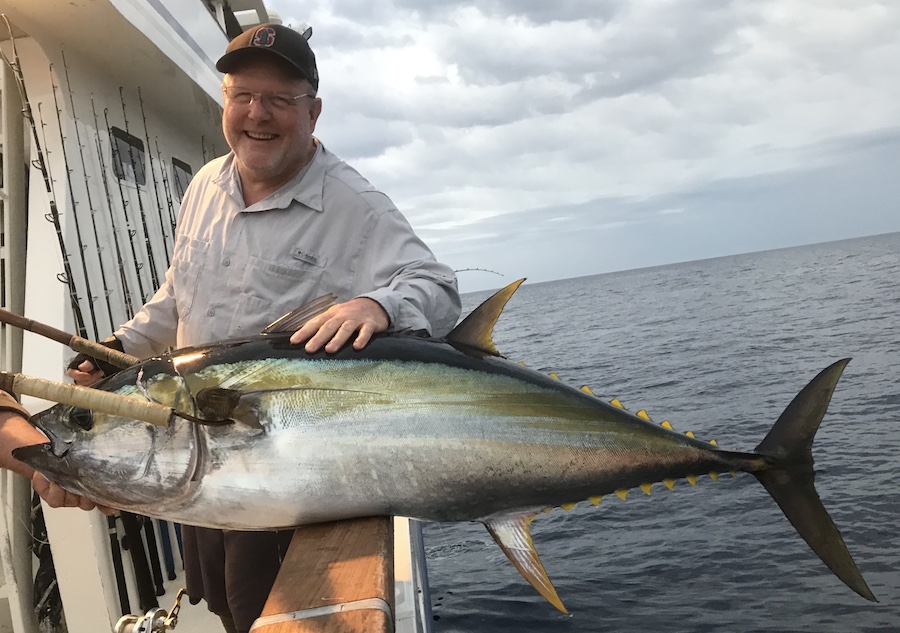 New trips!!
11-25-2019
Tim Ekstrom

A good morning of yellowtail action on the anchor and drifting rounded out the fishing/catching part of this run in fine style. Twenty two to twenty eight pound fish were spirited, fat, and sassy giving anglers a few memorable last runs for their money before we called it mid afternoon. A sure sign that anglers were sated and satisfied the tackle breakdown began well before the beginning notes from the corpulent queen. It was time. Done is done.
Cautiously eyeballing the forecast with optimism it appears that our timing as of now will be perfect. Nothing like squeaking in ahead of a significant storm with only hours to spare. We'll have a good view of the fun to come though as the harbinger of impending doom - a very large, rapidly building swell, will provide plenty of impetus to keep the bow heading in the right direction. Fun. Today's image features long time Royal Star angler and friend Dennis McNeely with one of his dandy, 100 pound class yellowfin from Isla Guadalupe
On the admin front keep an eye on the daily narrative as we are setting up to run a few "mini" long range, late season 1 1/2 day, and 3 day voyages to take full advantage of this still incredible fishing for local bluefin and yellowfin tuna. As of now there is no indication that these fish will be taking leave any time soon. They are happily settled in. Tentatively we are looking at Saturday Dec 7th - Monday Dec 9th, then Friday December 13th - Sunday December 15th for a couple of day and a half trips at a fantastic late season, all inclusive price. Look for a three day voyage departing Friday December 27th returning Monday December 30th; a perfect break between the holidays to get out on the water and catch a few beautiful bluefin tuna!. If you are interested in any of these voyages please give Tracy or Captain Brian Sims a call in the office. More details about the new voyages will soon follow!