Fish Reports
From Royal Star Long-Range Sportfishing
Fish Report for 12-11-2020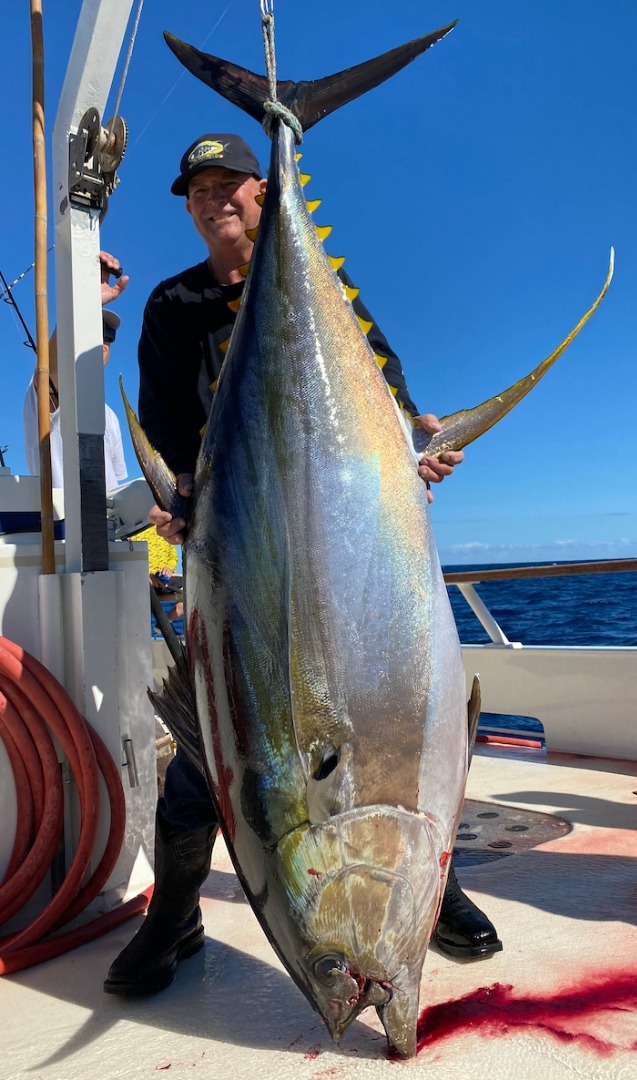 Title fight
12-11-2020
Tim Ekstrom

Classic big fish angling today mixing in a few shots at jumbos, a few mid sizers, and a few bonus, fat yellowtail amidst abundant time at the rail fishing. The old refrain about time at the rail producing results is the go to in these circumstances. There is nothing else to do. Grind it out, enjoy the sights and sounds, and relish the time offshore in such a beautiful, untroubled environment. It is a blessing to be here.
Admittedly it is even more of a blessing to be here as one of the "lucky" ones getting a shot at a trophy yellowfin. There were a few around today. And, as always on such occasions, these big bastards are quick to remind anglers of how difficult they are to land, and how quick they are to expose any flaws in the rigging and/or deficiencies in the gear.
I've been at this a long time. I can report with 100% certainty that warm water dwelling, jumbo class yellowfin over 200 pounds are far more challenging to land once hooked than their bluefined cousins. Knowing that such a comment could elicit much debate, and even bruise the delicate feelings of ardent bluefin busters, I make it anyway.
No disrespect meant toward the big bluefin tunas that certainly try their hardest once hooked to get away. And no doubt we've had our asses handed to us by the anomaly or odd super athlete in the mix that elicits genuine admiration. But side by each it is impossible to not notice the extreme difference. These trophy yellowfin are mean, exceptionally so. I assign the notable difference to water temperature, anecdotally speaking of course.
Royal Star veteran and friend Gary Licht got a crash course today. I'm certain after the slugfest he ultimately won Gary would call the match of BFT vs YFT in favor of the YFT. He's had plenty of experience pulling on both. At 240 pounds Gary's fat trophy yellowfin tuna gave him, and the boys, hell to the last tail beat. What a battle!